The Wizarding World of Harry Potter's Diagon Alley expansion has officially soft opened.
In the theme park fandom, soft openings refer to the test runs of a new ride or area before its grand opening. They are typically not announced, with no guarantee of entry or a complete experience, and are subject to close without warning. The Orlando theme park community has been on what they call Potterwatch for weeks, with many people even camping out in front of King's Cross for a chance at experiencing Diagon Alley first.
The Hogwarts Express first opened on July 1st – then again on July 2nd – giving onlookers an inkling that a bigger soft opening might be on the horizon.
Today, those suspicions were confirmed. Universal Orlando has even broken soft opening protocol by making official announcements on their social media and blog.
The soft openings will give us a crucial look into how Diagon Alley will handle crowds during the busy post-grand opening and summer seasons. Hogsmeade was – and, on busier days, still is – notorious for quickly reaching capacity, forcing the use of a old-school Fastpass-style ticket system.
One notable absence from the soft opening thus far: Harry Potter and the Escape from Gringotts. The area's headlining attraction has experienced abundant downtime during previous runs, including private events with Universal executives and celebrities. Its performance during soft openings will be vital to anticipating its performance on July 8th and beyond.
Fair warning: the photos included in this post may be considered spoiler-y for anybody avoiding visual Diagon Alley media!
The park is implementing a staggered entry strategy, setting up a queue by the Fear Factor Live attraction and letting guests in by the hundreds. From @bioreconstruct on twitter: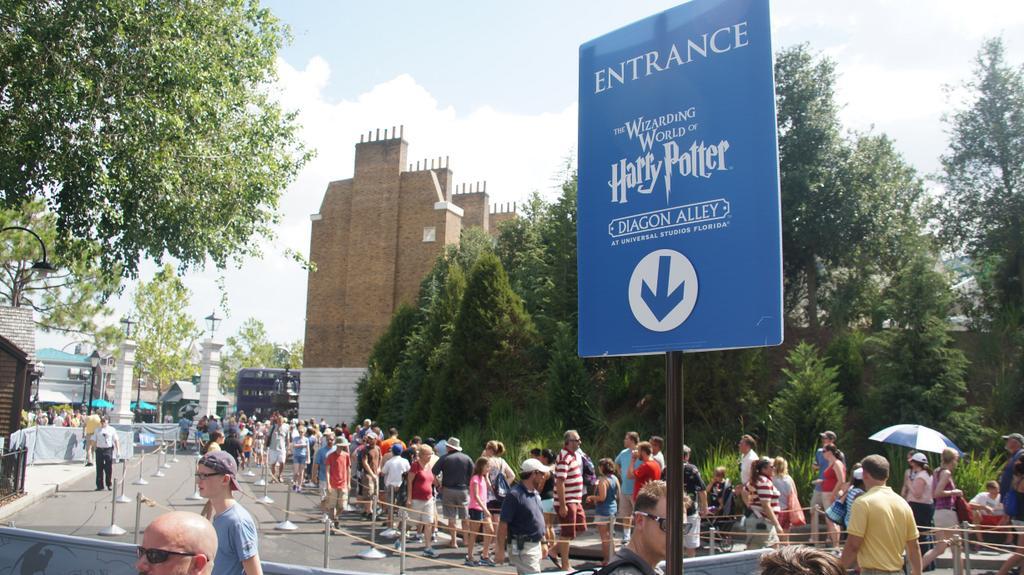 Very short wait near Fear Factor for a staggered entry into Diagon Alley. Maybe 100 at a time. #potterwatch
Crowds are more evident behind the brick wall. From @insideuniversal: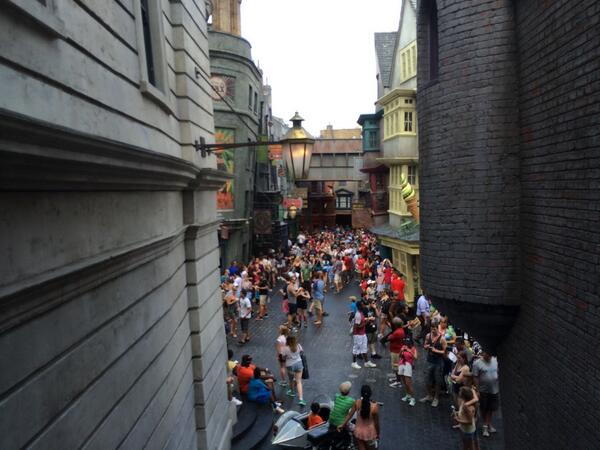 From @DougDubsUOR:
From @bioreconstruct: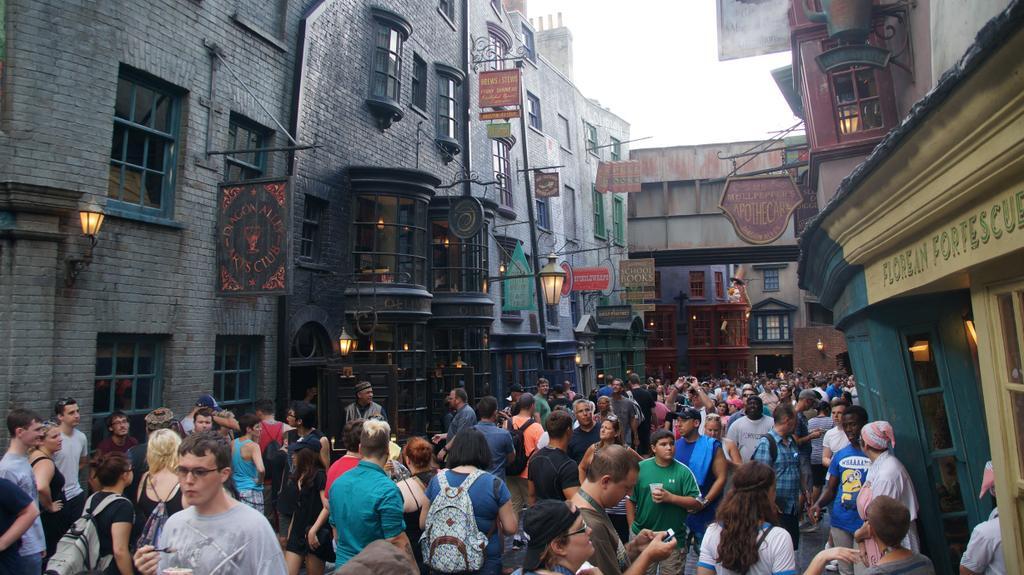 From @shoewee, chances of a Gringotts soft opening today – or soon, for that matter – look grim:
From @Attractions, Celestina Warbeck draws a crowd: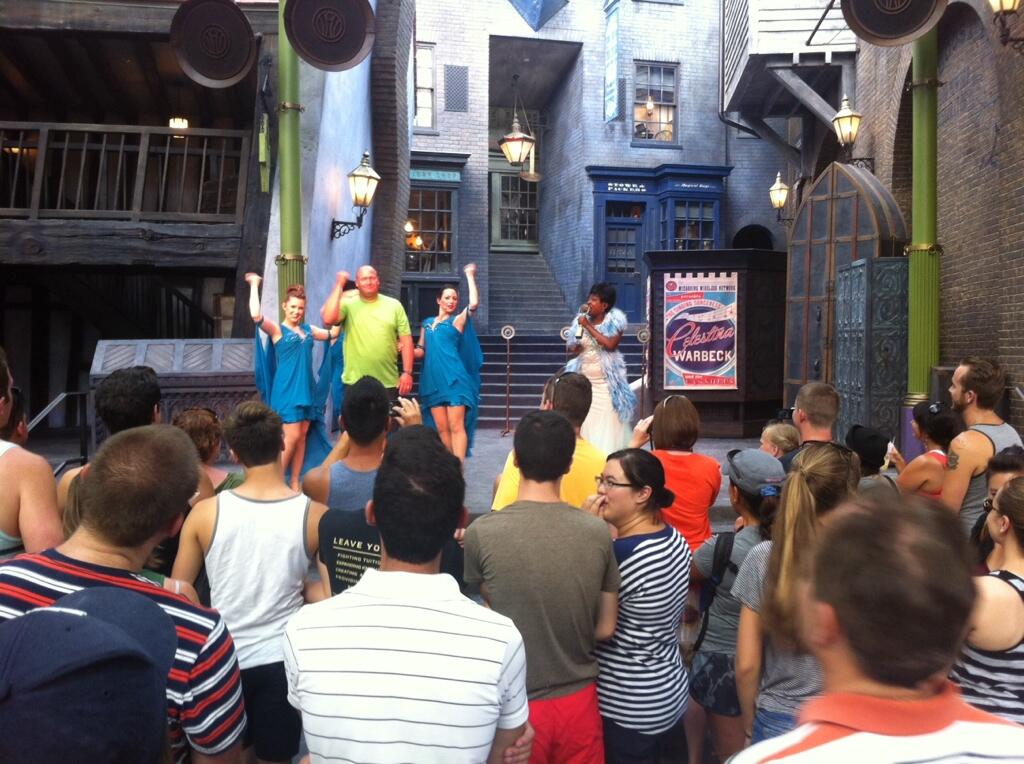 From @laserwithaz, the crowd thickens and a flying motorcycle photo-op is revealed in the lower third: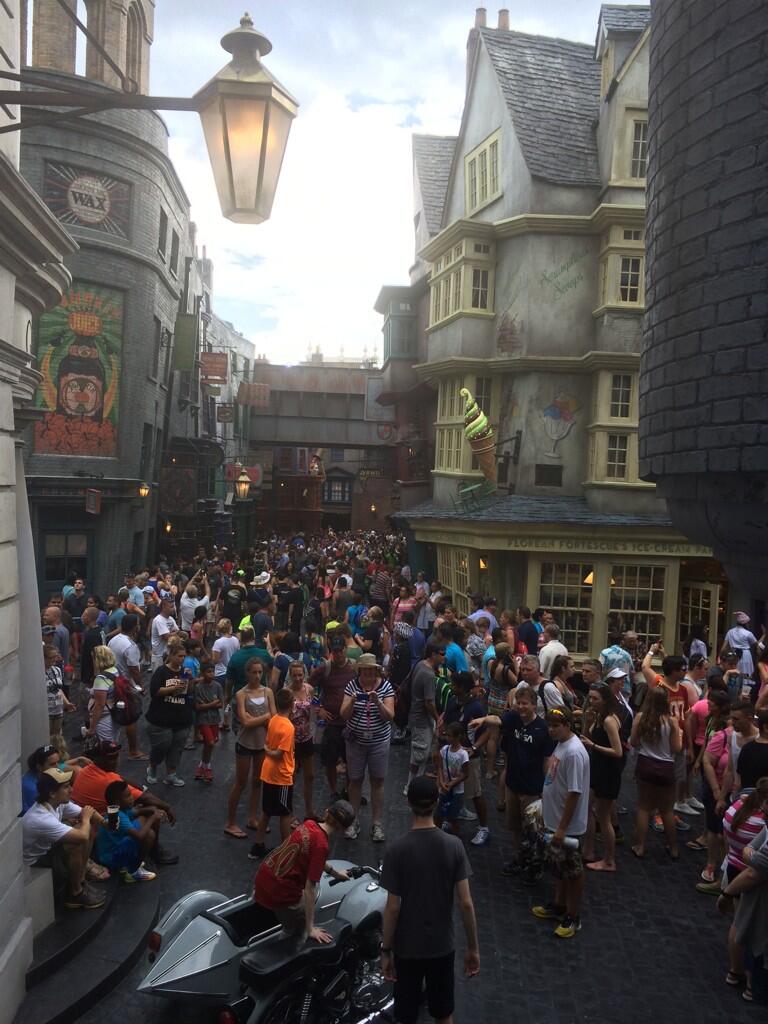 We will continue to update this post with pictures as the on-site guests post them!