Diagon Alley's soft opening has resulted in the first wave of fan reactions.
The theme park and Harry Potter fandoms came together, as they did in 2010, for "Potterwatch," and some Orlando locals went so far as to hang out in front of the London facade waiting for a chance to go behind the brick wall. That dedication paid off when Universal finally let them through. Other fans, who had passed on daily campouts, drove from hours away to experience it for the first time.
As the third day of softs reaches its end, forums and blogs have already been abuzz with first impressions. These reviews are shedding light on what we can expect when we make the journey ourselves. Here are some talking points:
1) The new merchandise will make our wallets cry.
This first became clear during Inside the Magic's (spoiler-filled) tour of the Diagon Alley stores. The new shops have come with new merchandise, from redesigns of old favorites – like scarves – to area-specific items. Borgin and Burkes, for example, gives the dark side a store of their own. The Magical Menagerie is stuffed animal heaven. Hufflepuff and Ravenclaw are said to get more focus than they did in Hogsmeade, which still puts them behind Gryffindor and Slytherin but is at least progress. The trend of authentic-but-expensive clothing continues, with Quidditch sweaters coming it at over a hundred dollars.
Even the food makes breaking a budget tempting. Between the gilly water you can add "elixirs" to, the fishy green ale, and Florean Fortescue's lineup of quirky ice cream flavors, the expansion's menu cashes in on both novelty and deliciousness.
From user awhen on OrlandoUnited, a Weasleys' Wizard Wheezes employee shows off one of the skiving snackboxes (!!!):
From @hedgehogscorner, a Gringotts key pin has been added to the pin collection: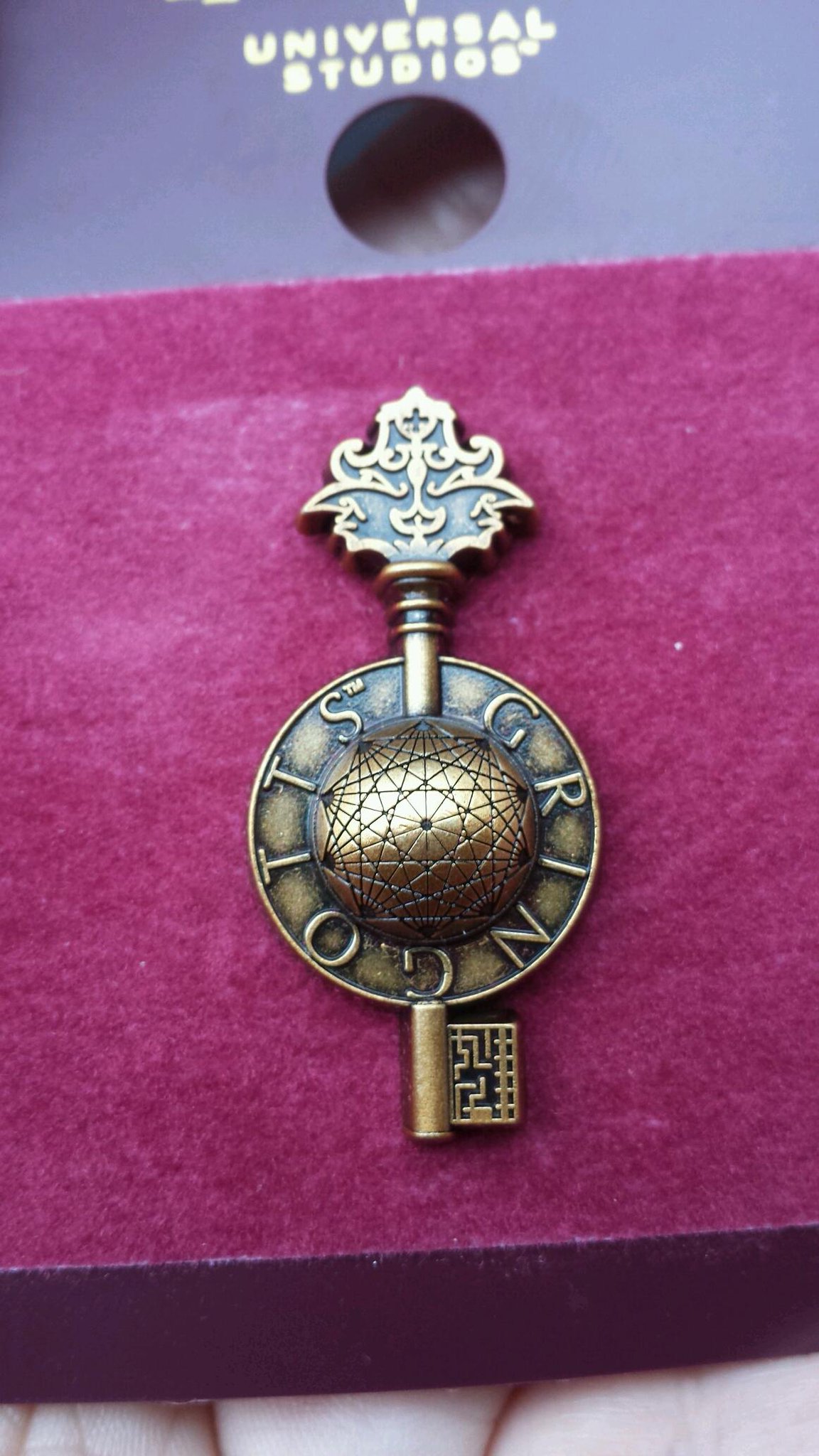 Not to mention, of course, the new interactive wands which make spellcasting a reality.
2) The dragon is a showstopper.
The general consensus is that pictures and video don't do it justice. The dragon perched atop Gringotts has been a point of discussion since it appeared on the original Diagon Alley concept art. When it was installed, many were quick to complain that it was a statue instead of an animatronic. Now that crowds have experienced it, many report that its roar prompts the audience to stand still and look up, awaiting the inevitable firebreathing.
Here it is in action:
3) Atmosphere is (still) everything.
Despite the headlining attraction being down for the count throughout softs, crowds are raving about Diagon Alley. This goes to show that it's theming and commitment to story that truly make WWoHP what it is. From art on building walls: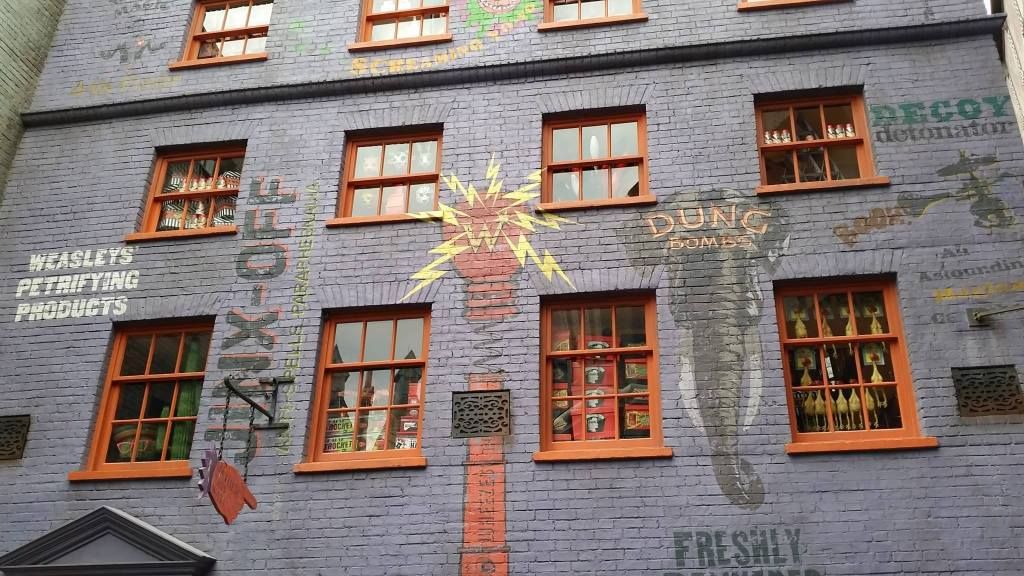 to the trademark tilt of wizarding architecture:
Universal Creative has taken the time to capture the feel of the wizarding world instead of focusing exclusively on thrill. The muggle mindset is nowhere to be found.
4) All eyes are on Harry Potter and the Escape from Gringotts.
As mentioned above, Escape from Gringotts has not opened as part of softs. What's more, those who bought preview vacation packages have not been able to ride it, either.
From @shoewee:
This comes after the attraction faced frequent emergency stops during media previews and private events. The collective hope is that this downtime now is going towards making sure its performance improves as the grand opening approaches.
Still, the ride has fans very nervous.
Update: As of July 6th, those who booked a Wizarding World of Harry Potter preview vacation package have been allowed to ride Gringotts. The ride did not require any evacuations, which comes as a first. Gringotts has yet to open for ongoing softs.
5) Universal has done it again.
When the Wizarding World of Harry Potter first opened its doors, the world was awestruck. That effect seemed irreplicable for a long time afterwards. Now, with Diagon Alley, it's back. Universal Creative has once again pulled off what took the theme park industry by storm in 2010: exhaustive detail, constant innovation, and a respect for Harry's story. The Wizarding World of Harry Potter does not rest on its laurels. It does not coast on the success of Harry Potter. Instead, it celebrates the magic of its original success and strives to improve upon it.
Back when Diagon Alley was first officially announced,  I wrote a "what to expect" piece, ending on this note:
"Whether your Diagon Alley hopes are high or you're set for cynicism, this is something to get excited about. Sure, there will be errors. There will be glitches. Rides will break down and people will be upset.

It's over a year before opening and this is already clear.

But let's take a quick step back and think about this:

If being able to finally go to Hogwarts was mind-blowing back in 2010, let's consider the fact that in a year's time we'll be able to withdraw some money at Gringotts, board the Hogwarts Express, and travel toward Hogwarts the same way Harry did.

We're going to be able to grab a bite at the Leaky Cauldron, thinking back to our days spent on the-leaky-cauldron. We'll be able to spend hours at Weasley's Wizard Wheezes, visit the original Ollivander's, and maybe hit Hogsmeade for some butterbeer at the Three Broomsticks.

As opening day approaches, we'll bring our wands, scarves, and white button-ups out of the closet. We'll be abuzz once again, exchanging plans and counting down. We'll be speculating, debating, and waiting.

This is the magic many feared– but never truly believed– would end with the last book in 2007 or the last film in 2011. This is the stuff that brings us together, brings the wizards and witches out of the woodwork, and reminds us where our loyalties lie.

Last summer, I spent over 13 uninterrupted hours in Hogsmeade on July 21 to celebrate the fifth anniversary of Deathly Hallows' publishing. I meandered through Hogsmeade and had more than a few butterbeers. I walked through Hogwarts time and time again. And sometime after my thirteenth hour there, when the park closed and I had to leave, I wanted nothing more than to stay longer.

This is something that does not get old. This is something we've waited for since opening our first Harry Potter book. This is the letter we anticipated as the clock struck midnight on our eleventh birthday– and every one since then.

So my main expectation for Diagon Alley?

I think it'll feel like home."
Though I'm opting to wait until the LeakyCon event to experience Diagon Alley for the first time, I already get the feeling that Universal Orlando has not failed the Harry Potter community.
We have LeakyNews staff on-site and covering their Diagon Alley experience over on our Twitter!